FAIR PLAY

Saddled with a man's name, the captivating Billy Jack Tate makes no apologies for pursuing a man's profession. As a lady doctor at the 1893 Chicago World's Fair, she is one step closer to having her very own medical practice—until she doctors an imposing man who threatens the fulfillment of her dream.

Hunter is one of the elite. A Texas Ranger and World's Fair guard specifically chosen for his height, physique, character, and skill. Hailed as the toughest man west of any place east, he has no patience for big cities and women who aspire to walk in a man's shoes.

But the abandoned baby Hunter discovers at the Fair finds him teaming up with the good doctor to give the foundling a better future than the slums of Chicago, where the children play on flea-infested, garbage-strewn streets. As Billy and Hunter fight for the foundling's welfare, their hearts warm to the precious child—and to each other.

Soon their concern grows to encompass the Nineteenth Ward's burgeoning population of street children. In the interest of fair play, Billy and Hunter let nothing stand in their way as they labor to build a park for them, birthing Chicago's first playground and a national movement that will sweep the nation.
Will Hunter and Billy become a footnote in the Fair's history books,
or will what they discovered in Chicago be longer lasting than the World's Exhibition?

 Tempest in the White City
An eShort Story introducing Hunter & Billy for only 99¢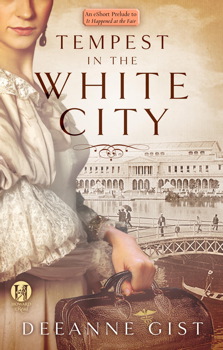 This brand new short story will plop you right into the 1893 Chicago World's Fair as well as give you a sneak peek at the two main characters in Fair Play.

Hunter Scott is one of the elite. A guard of the World's Columbian Exposition specifically chosen for his height, physique, character and ability to serve and protect.

Overcome by debilitating abdominal pain, he stumbles to an infirmary only to discover the doctor is female. Female.

But even worse, she has the nerve to diagnose him, the toughest man west of anyplace east, with constipation -- an unspeakable ailment in mixed company. 

The two of them face off in this short story and Fair Play tells their full story. Go to your online retailer or click one of the buttons below for information on how to download a copy to your eReader or computer.