It Happened at the Fair
 Gambling everything, including the family farm, Cullen McNamara travels to the 1893 Chicago World's Fair with his most recent invention. But the noise in the Fair's Machinery Palace makes it impossible to communicate with potential buyers. In an act of desperation, he hires Della Wentworth, a teacher of the deaf, to tutor him in the art of lip-reading.
The young teacher is reluctant to participate, and Cullen has trouble keeping his mind on his lessons while intently watching her lips.  Like the newly invented Ferris Wheel, he is caught in a whirl between his girl back home, his dreams as an inventor and his unexpected attraction to his new tutor.
Can he keep his feet on the ground
or will he be carried away?

As a special bonus, both the physical book and the eBook will have photographs of the real Fair dispersed throughout the novel! The photos in the physical book, however, are different than the photos in the eBook.  So no matter which version you buy, you'll be getting something exclusive.
  Click here for a sneak peek at one of the photos
                                                              Click here for an INTERACTIVE MAP of the Fair
 Tempest in the White City
A new eShort Story available March 19 for only 99¢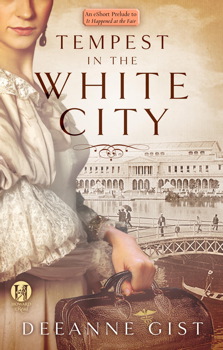 This brand new short story will plop you right into the 1893 Chicago World's Fair as well as give you a sneak peek at the two main characters in next year's (2014) book.

Hunter Scott is one of the elite. A guard of the World's Columbian Exposition specifically chosen for his height, physique, character and ability to serve and protect.

Overcome by debilitating abdominal pain, he stumbles to an infirmary only to discover the doctor is female. Female.

But even worse, she has the nerve to diagnose him, the toughest man west of anyplace east, with constipation -- an unspeakable ailment in mixed company. 

The two of them face off in this short story and my 2014 release will tell their full story.  Go to your online retailer or click one of the buttons below for information on how to download a copy to your eReader or computer.

   

"[It Happened at the Fair] is a fun romp through the famous Chicago World's Fair in 1893 ... This is so well researched and so well plotted you feel like you are wandering through the fairgrounds ... I think many fans...will want to put this on their must-read list!"
--  A Fair Substitute for Heaven
"Deeanne's books are always amazing but this was one of her best."
-- Backing Books, Rebekah Gyger